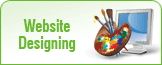 Designing is not confined to vivid imaginations; but it also be business focused and look appealing to prospective viewers simultaneously…
At ZSoft Internet Media, we hold experience in designing 200+ web based projects for our clients in USA, UK, Australia, New Zealand and India.
Our design related services are diversified and range from designing an aesthetic static website to creating a product based Multimedia Presentation.
ZSoft Internet Media holds expertise in using latest tools like Adobe Photoshop, Adobe Illustrator, Corel Draw, Macromedia Flash, Macromedia Dreamweaver, Microsoft Front Page etc to create your exclusive designs. We also ensure that our designs represent client's business area perfectly and look compelling to the targeted audience as well.
Often inexperienced designers are not able to differentiate between business focused designs and personalized designs. Thankfully at ZSoft Internet Media, we know the essence of both the segments clearly. In this field of creativity, our designers have years of experience and invest time at the initial stage to closely understand client's objective. Hence, we are able to present design layouts that match their expectation levels.
ZSoft Internet Media believes in providing expert design services to its clients. To make this objective a reality, we invest regularly in gaining knowledge about latest technologies to give our customers THE BEST in the field of designing.